Kiolezo uses a dedicated folder for images.
You can find all default images in images/kiolezo/ folder.
To add images to the component simply upload (via FTP or via Joomla Media manager) in that folder your custom images, and Kiolezo automatically will lists all your images in the drop down menu, inside the settings modal box.

---
To simplify your life, you can access to Kiolezo images folder, during layout editing, by pressing the media manager button, which open the default Joomla Media manager in the Kiolezo images folder.
If you are not expert with FTP file uploading, you can choose this easier way to manage your images.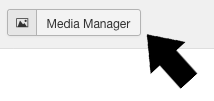 ---
In the images folder you will find also two subfolders, images/kiolezo/backgrounds/ and images/kiolezo/icons/.
In the first folder you can find all background images used as background for rows. In the second folder you can find all icons used as favicons, selectable from layout options.
Also in those two folders you can add your custom background images and favicons in the same way, by uploading there files. Kiolezo will automatically lists those files in drop down menus.