Digi Showcase
Sviluppatore esperto Joomla!
Digi Showcase
2.1.0
Mostra il contenuto di Joomla disposto in una bella vetrina dinamica.
Questa estensione è compatibile con Joomla! 3
Questa estensione include un modulo
Digi Showcase è tradotto in




Crea bellissime presentazioni dinamiche con i contenuti Joomla e riduci la frequenza di rimbalzo sul tuo sito web mostrando ai visitatori il contenuto più importante.
Puoi creare tabelle responsive articoli Joomla, uno slideshow articoli Joomla, una timeline Joomla, una nuvola di tag Joomla, una griglia articoli Joomla. A te la scelta!
Puoi inserire il contenuto in evidenza in qualsiasi posizione modulo disponibile nel tuo template aiutando gli utenti a trovare subito ciò che stanno cercando.
Con pochi e semplici click, puoi impostare Digi Showcase per organizzare gli articoli Joomla con stile, in modo professionale.
Se gli articoli Joomla non sono sufficienti, puoi espandere Digi Showcase con gli appositi Pacchetti di Espansione, in modo da utilizzare componenti di terze parti come fonte dati.
Digi Showcase è semplice ed intuitivo, ha una grafica responsive, è visibile su tutti i dispositivi ed è compatibile con dispositivi touch.
Con la nuovissima procedura guidata, puoi ottenere con un solo click il risultato che desideri. Scegli come vuoi impostare il modulo e clicca sul pulsante della configurazione desiderata. Il modulo si imposterà automaticamente senza che tu debba muovere un dito e potrai vedere istantaneamente la nuova configurazione nel frontend.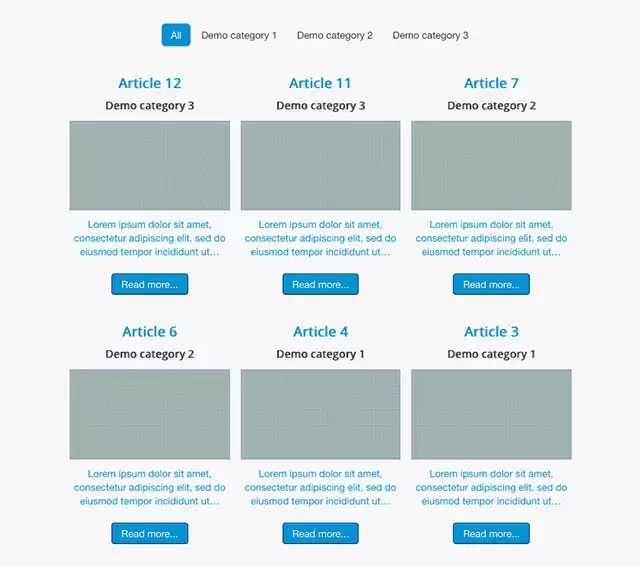 Un filtro per i contenuti è disponibile in Digi Showcase, in modo che i visitatori, con un solo click, abbiano la possibilità di filtrare quali elementi visualizzare.
In ciascuna modalità sono disponibili svariate opzioni di stile e di layout per impostare il contenuto visualizzato nel modulo.
Potrai scegliere se visualizzare l'immagine di introduzione degli articoli, l'immagine degli articoli, o la prima immagine del contenuto degli articoli. Oppure puoi lasciare che sia Digi Showcase a scegliere quale immagine mostrare, in modo intelligente.
In caso tu non abbia ancora inserito le immagini negli articoli, potrai visualizzare il comportamento delle immagini nel modulo mediante la comoda funzione segnaposto che mostrerà un immagine di default quando l'articolo non ha l'immagine impostata.
Imposta la posizione del titolo, della descrizione, della categoria, del pulsante leggi tutto. Mostra la data di creazione dell'articolo sopra o sotto l'immagine. Imposta il colore di sfondo degli articoli, oppure se desideri imposta un'immagine di sfondo o utilizza l'immagine contenuta in ciascun articolo.
Utilizza gli Articoli Joomla, le Categorie Joomla, i Tag Joomla o un CSV Personalizzato per popolare il modulo.
E se ancora non basta, puoi espandere Digi Showcase mediante gli appositi plugin.
Queste sono le modalità disponibili per creare presentazioni con il contenuto di Joomla:
Modalità Standard: organizza il contenuto in una tabella responsive Joomla dove puoi variare righe e colonne.
Modalità Carousel: utile per creare uno slideshow con Joomla utilizzando il contenuto a tua scelta.
Modalità Timeline: organizza il contenuto in una timeline Joomla animata e responsive.
Modalità Tag Cloud: organizza il contenuto in una tag cloud Joomla che si muove al passaggio del mouse.
Modalità Masonry: organizza il contenuto in un masonry layout Joomla con dimensioni definite o casuali.
Modalità Standard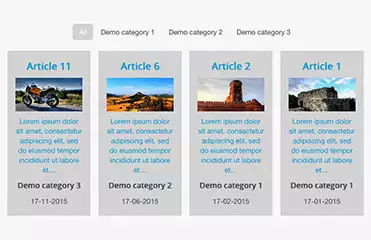 Modalità Carousel
Slideshow verticale
Modalità Timeline
Modalità Tag Cloud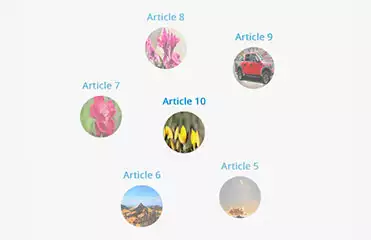 Modalità Masonry
Utilizza testo personalizzato in formato CSV come fonte dati, in modo da mostrare il contenuto, proprio come tu lo desideri, correttamente formattato nel modulo. Una speciale finestra creata appositamente, posta accanto all'area di testo, può aiutarti a formattare il contenuto in formato CSV in modo corretto, suggerendoti quali dati inserire.
La comodissima funzione di backup ti consente, con un solo click, di salvare le impostazioni correnti del modulo in un file. Puoi richiamare le impostazioni contenute in ciascuno dei file salvati ogni qual volta lo desideri. In questo modo potrai sempre recuperare le vecchie impostazioni quando ne avrai bisogno. Potrai poi eliminare i file non più necessari.
Digi Showcase Gallery
Digi Showcase Video
Digi Showcase Recensioni
Caricate da Joomla Extensions Directory
Scrivi una recensione
Great extension. Functionality: Excellent module, recommended 100 %. Thanks to its developers. 5 stars for this extension. Ease of use: Very easy to configure with very attractive design. Load the joomla content in many possible ways. Support: Good free support. They respond quickly to the problems presented. I used this to: I use this module for show content display with many possible configurations.
dnoa88
Nice, simple and powerful. Functionality: All the main functions have been provided for this kind of module. Increase the title readability is a feature request. Ease of use: Very easy, even a styles wizard well thought out for anyone. Very accurate backend interface. Support: Support very present, there is a forum where they also respond for free software. Documentation: Documentation simple but well done, after all the module is self explanatory. I used this to: For a cooperative company, on the homepage, give a noteworthy aesthetic touch.
danjde
Effective and easy to use module. Functionality: excellent functionality to pull articles from one category or several as a source. only weak point: little visual effect. Ease of use: Very easy to configure. very well deductive. You don't need any manual to set up. I used this to: i use for my blog and sites. I have really liked the way of showing.
weltonwms
Fantastic. In addition to the pleasant effects and ease of use, as well as the speed of execution, what struck me most is the absolutely satisfactory, friendly and complete service, technical support: immediate and competent answers, which for a free extension leaves almost with open mouth. Functionality: Perfect and fast. Ease of use: Great ease of use. Support: It is what struck me most, absolutely satisfying, cordial and complete. Documentation: Valid, but not needed with a similar service. I used this to: Site of writing and culture nuovapoesia.com, for now, but I think I will also put it on other sites.
CristianoSias
Nice showcase to display a timeline. Functionality: The module is easy to use with all its settings and layouts. Ease of use: The module is easy to use with all its settings and lay outs. Support: Support is very good and very quick! A little problem with a conflict between the module and advanced module manager was solved in an hour. Documentation: Not needed. I used this to: website.
stof
One of the only free sliders on Joomla to have Finger slide for mobile devices. Functionality: very nice functionality, lot of easy back end options for customizations. Ease of use: pretty easy to install and use. Support: excellent fast support even though they are providing a free module. I used this to: slider for a website.
anando.das gupta
Very nice extension. Functionality: Works as announced in a minute, many nice options to use in differant ways, perfect integration under template Helium Gantry 5. Ease of use: all is clear, just need to choose options and save. Support: Been confused as there are no direct download link so i have posted on the forum and received the answer 5 minutes later... Documentation: options are talking for themselve, intuitive, don't need more... I used this to: to display articles carousel on home page.
Adgenodux
Veramente un buon lavoro. Functionality: Digi Showcase è un modulo per Joomla che permette di costruire e gestire gli articoli ordinandoli in una TImeline o in un carosello! Ottimo! Ease of use: Sì molto funzionale.
Gianluca
It does its work! Functionality: It grab the content of articles and display it as the module promises. Ease of use: For me the setup was easy, a lot of options but well explained. Support: I ask in the previous version to all the Read more button after the text of articles and the developer add this feature in this version. Documentation: It's now a book but all is well explained. Also it's a free module, so for me is perfect. I used this to: I use it to display some articles in a food website in homepage.
Martino Scotto
GREAT MODULE. Functionality: Missing a read more option but it can easily added in its default view. Ease of use: Nice & Simple. I used this to: Fetching articles from certain category to my front-page.
Gnme Li
Documentazione estensioni Joomla